Jackson
Jackson is a Hinny gelding.  Vet estimated a mid teenage so 15-18 is where we are putting him.  He has learned that he is safe here and is starting to allow us to pet him and we are working to desensitize him to being touched on his legs for future farrier work.  We did have to have the vet out to sedate him to get his hooves done but requires additional work.
He was a herd protector for other horses prior, but was alone for quite some time now.  He is thrilled to be with other equine!!
Gucci
Gucci is a darling yearling (est by vet) who for her age, has very good manners and has been handled appropriately be believe.  She halters, leads, stands for grooming, stands for farrier, loads into trailer and is ready for someone to start her on more groundwork.  We were told she was a pony, however she could possibly be a smaller size horse.  So far we don't see any pony orneriness in her!!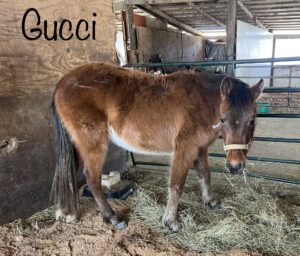 Apache
Apache is an approximately 15 yr old Saddlebred who is said to be trained under saddle, however the footing at the farm has  been too dangerous to think about working outdoors.  He is a well behaved gelding who stands for grooming, loading, farrier, etc.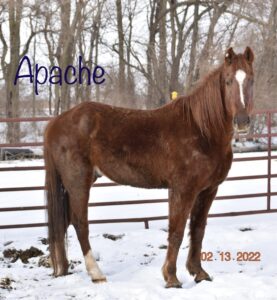 Koda
Koda is a tall beautiful Black gelding.  He is trained under saddle but has not been worked in several years.  He came to the rescue due to owners health.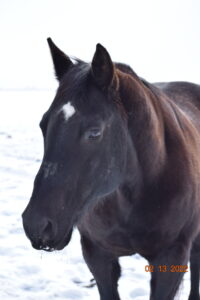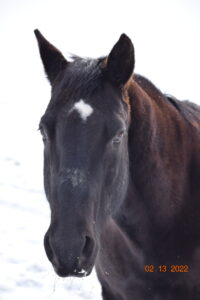 Lacey – Gone To Training
This mare is going to take some work.  She came from a hoarding situation and had no training prior to coming to the rescue.  She is very sweet, but requires training.  She is in training and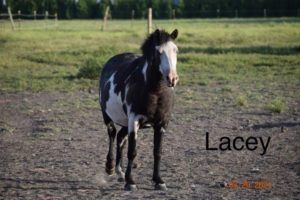 Gemini – gone to training!
This young mare is not yet trained under saddle, however she is broke to halter, catch (most of the time), lead and stand for the farrier.  She is very gentle and willing.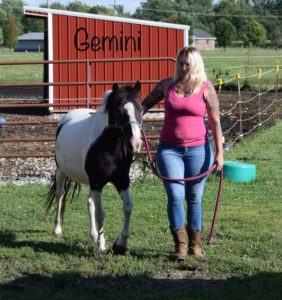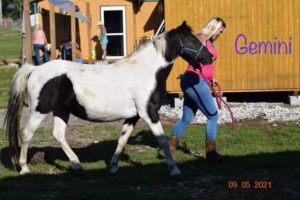 Shadow – Available
This gelding is 17+/-years of age. We were told Shadow had a lot of training, but we sure knew he needed some work. He does bathe, lead and load and is easy to catch in the pasture. His previous owners were older and knew it was a time to find him the right home.