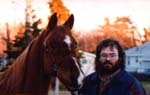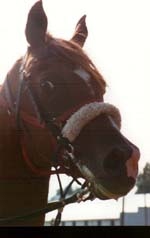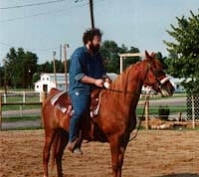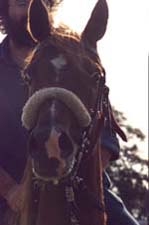 Dedicated to CRJ Orlando Sudan
Indiana Horse Rescue, Equine Division of Animal Protection Coalition –  is dedicated to CRJ Orlando Sudan. Sudan was the very first horse, of course we had no idea that he had been abused, even though he broke two young girls arms when we first looked at him. When we brought him home and he successfully bucked his rider off, well that was quite an experience! Many people called him "Satan" and advised us to sell him before he killed someone, but it was not to be. A lot of time was spent talking to him and lunging him in the round pen, trying to teach him to trust. Finally deciding if he could not ride Sudan, he would have to be put down. Sudan would not be abused or allowed to hurt anyone. He was a VERY smart horse and must have realized that we really cared. That day was the beginning of a relationship like no other. Very few people ever get to experience the love he had to give, he was very special. Sudan would be ridden almost everyday, he would be saddled up and ready to go, and they were off like a shot! It didn't matter what the weather was, rain, cold, the only thing that stopped them were sub zero temperatures and the ever dreaded ice. They were meant for each other. You could tell Sudan that "daddy" was coming, and he always knew what we meant. Sudan had a problem with women riding him, we tried to lease him out before we totally understood his problem, and he bucked this young girl off 6 out of 7 times. It was quite a reward after 2 years when he allowed me (a woman) to ride him. Sudan was a dream! He was like riding the clouds, that is the best way I can describe it.
Then that phone call on March 1, 1999. I will never forget it. I don't remember getting dressed or how we got to the farm, but we were too late. Sudan had a heart attack during morning feeding. He was watching Bill put hay out and patiently waiting his turn. There was a crash and he went down. Bill had to open the gate so he didn't choke as he fell against it. He was gone.
Sudan taught us so much. How to love a horse, to talk to them and how to listen. Yes, people thought we were a little nuts, what did we know? But Dr. Hope knew. He knew the first time he worked on Sudan he broke a set of cross ties and got away from him and another man. He didn't want that strange man working on him. He had to be tranquilized. The next year Dr. Hope had the tranquilizer ready, when asked what "that" was for. We walked into Sudan's stall and put his arm around him and told Doc to go ahead. It took no tranquilizers, no halter, just a lot of love from someone special. From that day on Dr. Hope always referred to the Tony. his owner as "daddy" when working on Sudan.
Because of Sudan we learned of other "crazy" horses. We learned about kill sales and horses being slaughtered – Indiana Horse Rescue was started. We now teach the new horses how to trust, how to love again.





But, there will never be another Sudan.



Kathryn Caldwell – One of the founding members of Indiana Horse Rescue